Welcome to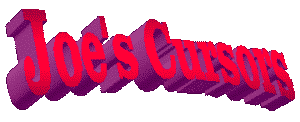 Home Page
---
What's New:

I am no longer making new cursors. However, my sets remain popular and I have kept my site available so that people could get the most recent sets in one location, rather than getting one of the out of date versions floating around the net. Also, the license remains the same.

I want to welcome my new European download site at Esse Graphic Resources, I appreciate their sponsorship. Since my cursors do not provide me income, I have to use sites willing to host my web page and downloads. In return, they put advertising on my web site and download pages to cover their expenses. When downloading the files you will be sent to an intermediate page where the file is hosted and you will have to click on the download link on that page. Also a sign of the times is that my download sponsor's advertising occasionally changes and some pop-up ads may have to be endured to get something for free. Just understand that I don't control the ads, so writing to me about them does no good.

If you have the most recent version of Internet Explorer or a CSS 2 compliant browser, when you go to the individual cursor set web page, your main cursor will temporarily change to the medium sized non-animated cursor in that cursor set (when held over the web page).
Click here to go back to the top of the Page.
---
About the License/Copyright:

You are welcome to download any of my cursor sets for your personal use. These cursors are copyrighted, and any use other than for yourself, such as in themes or collections, requires permission from me and inclusion of the copyright notice. If you want to use my cursors just for yourself at work, that's fine, but any commercial use (use in or with anything intended to make a profit) requires purchase of a license.

In allowing you to use these cursors for free, please honor my copyright, which covers both the cursors and their animation. Taking even just one cursor in the set and combining it with others, or recoloring the cursors, and then publishing them to anyone else without including my copyright notice is a copyright violation. If you've inadvertantly done this in one of your themes or collections, please add my copyright notice for the cursors or animations. Alternatively, remove any such "borrowed" work and use your own. I appreciate you respecting my work.
Click here to go back to the top of the Page.
---
Background:

The initial cursors that came with Windows 95 were pretty boring. I looked around for others, but when Windows 95 first came out there weren't many available and none that I found were in colors I liked or could be used as your normal cursor day in and day out. So I designed my own. After using them myself, I decided to share them with others. I have been making cursors for many years now that are intentionally simple enough, but colorful and interesting enough that you can use them everyday without getting bored, even if you only like one color.
All of these cursors will work with and have been tested on all the variations of Windows from Windows 95 and NT on up (Windows 95, 98, ME, NT, 2000, or XP). There are however the following unique Windows "bugs": If you have Windows 2000, some of the animations may not be as smooth since for some reason Windows 2000 has a tendency to drop duplicated frames within the animation. Also, for some reason known only to Microsoft, both Windows 2000 and XP will freeze the "no" cursor so that it doesn't move.
All of my cursors have install and uninstall support except the Animated Inverse Cursor Scheme, which has registry install support only, due to the use of long file names. (XP users wishing to install the Animated Inverse Cursor Scheme, please read the web page before installing as it has more current information than the download file.) For those of you using Windows 2000/XP, the cursors will automatically be available for the user who makes the installation. For other users, unless they also run the install program, they will have access to the individual cursors but not the pre-built cursor schemes. This was done to be consistent with the way Windows customizes the desktop for each user.
All sets provide enough cursors to replace every Windows mouse pointer, along with a variety of choices for those usually animated. All sets include link or browser cursors, but Microsoft stopped supporting this in Internet Explorer 5, and the link cursor will now only appear whenever you use the "single click" setting for "folder options" in newer versions of Windows. My variations on the browser or "hand" cursor still make a good regular cursor. Most sets also include some larger cursors to support laptops or for those with large monitors.
Be aware that a small number of my cursors use a moving hot spot to make the cursor act bigger than the size allowed by Windows (for example the one I call "Clock Second Hand"). If a cursor looks like it is jumping all over when previewed, it is probably one of these, and you won't know what it really is supposed look like without actually installing it and viewing it in action.
Use the links at the top of this page to access each of the individual cursor sets.
Click here to go back to the top of the Page.
---
Last updated on 1/12/08.
To contact the author of this web page email joescursors@yahoo.com.
The title, design, and content of these web pages are
Copyright © 1997-2008 by W. J. Harnden, Jr.
All rights reserved.
---
I have not had a counter for all of the 10 plus years this site has been on the internet, so this is a low count of the total visitors:


I find the following software useful for Vista:
CleanMyPC Registry Cleaner
Offers Registry Cleaner, a handy tool to clean registry, optimize system performance, organize your system startup items and IE BHOs.
Monitor your website with mon.itor.us
This site rated with

I do not control what web pages are advertised below.